Join us for Mass!
Sunday 8 a.m., 11 a.m., 6 p.m. | Saturday 5 p.m. | Monday to Friday 8:30 a.m. | Saturday 9 a.m.
Join us for Mass!
Sunday 8 a.m., 11 a.m., 6 p.m. | Saturday 5 p.m. | Monday to Friday 8:30 a.m. | Saturday 9 a.m.
GREETINGS FROM THE PASTOR
GREETINGS FROM THE PASTOR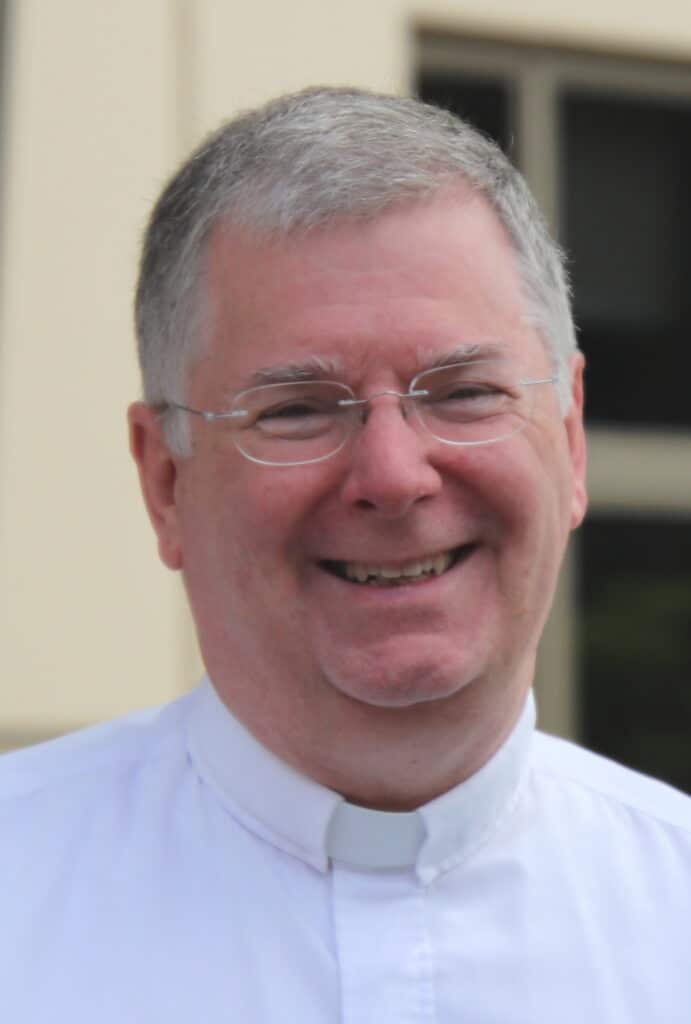 Hello, I'm Fr. Brad Schoeberle, CSP. I'm a Paulist Father and Pastor of Old St. Mary's Parish here in the South Loop. We are the oldest Catholic Parish in Chicago, beginning our parish mission in 1833. But if you come here looking for an old building, be warned, our current facilities (6th in our history), only date back as far as 2002.
What that bit of history tells you about us, and what it tells you about the Paulists (we have been here since 1903), is our quest to tell the authentic Gospel story with contemporary tools is as real today as ever. Thank you for visiting our website – and you are always welcome to visit and join the parish.
Way back in college, one of my professors used to speak about purple passages in Shakespeare. You know, "To be or not to be [Hamlet]" "But soft, what light through yonder window breaks [R&J]" and "This rough magic I here abjure [Tempest]." Passages that stand on their own right and instantly tell you the play.
Purple Passages for us Catholics have a different meaning when we link them to Advent. The season itself, highlighted in purple and rose, accented with evergreen and candlelight, is meant to have us reflect on the scripture passages leading us to the birth of Christ. "Let us climb the Lord's mountain" [Is 2:3], "Repent, the Kingdom is at hand" [Matt 3:2], "The dessert and the parched land will exult" [Is 35:1], "They shall name him, Emmanuel, which means God is with us" [Matt 1:23].
As we reflect together on what Christ means in a world that often seeks darkness, hardened hearts, selfishness and blind ambition, perhaps seeing Christ as the world's light, that frees hearts to love, opens the world to see the needs and seeks ways of coming together is the heart of the message.
Come and join us as we unpack the mystery of Christ through worship, celebration and activity here at Old St. Mary's. And in a special way, unique for our parish in Chicago this Advent, we'll celebrate Paulist Founder, Isaac Hecker's birthday, on Sunday, December 22. Hecker gladly reminds us of how important Christ (and the focus for Advent) is when he says, "We must find Christ!  Here, now, in this day, in this age!  Otherwise, He is No Christ, No Savior, No Emmanuel.
And we do believe Jesus is God with us!  Blessings on your Advent!
Fr. Brad